How To Choose Dining Room Pendant Lighting
Dining Room Pendant Lighting
The first things you need to consider are the scene you want to create, the emotion you are looking for, what kind of dining room pendant light will complement your personal style, and your home's existing décor. You also want to make sure you have enough light on the table, walls, and artwork while avoiding glare. The dining room is not just for eating – it's a multi-functional space, used for homework, paying bills, playing games, and other tasks. dining room pendant light is very important, Providing sufficient light at the table and around the room is key.
Choosing the right pendant for your dining room pendant lights can be tricky: You want it to make a decorative statement, provide enough light for the table and avoid unwanted glare. Much of the functionality of dining room pendant lighting can be controlled through proper height placement and choosing the right materials (transparent glass for an all-around glow versus opaque metal for more downward focused light). After that, the exact style is a simple matter of taste. Fortunately, there are plenty of modern pendant lights out there to create the dramatic look and lighting effect you want in your dining room.
Mini Pendant & Multi-Light Pendant Lighting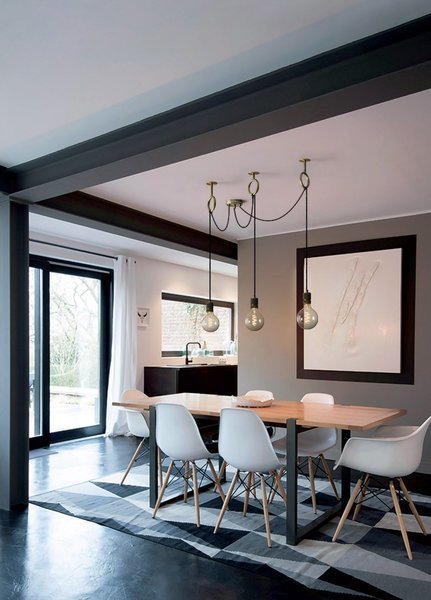 On its own, one mini pendant is probably not sufficient to properly illuminate a dining table. But when three or more are grouped together, you effectively have a contemporary take on a traditional chandelier. Some multi-light pendants come pre-configured; all you have to do is have each pendant in it cut to a desired length. Or you have the option of truly customizing a piece by choosing a multi-port ceiling canopy and mixing and matching pendants of varying sizes, colors and/or shapes.
DINING ROOM PENDANT LIGHTING
PRO TIP
Choose a rectangular canopy for linear configurations over longer oval or rectangular tables, and a round canopy to create a central cluster for round or square dining tables.
Drum Pendant Lighting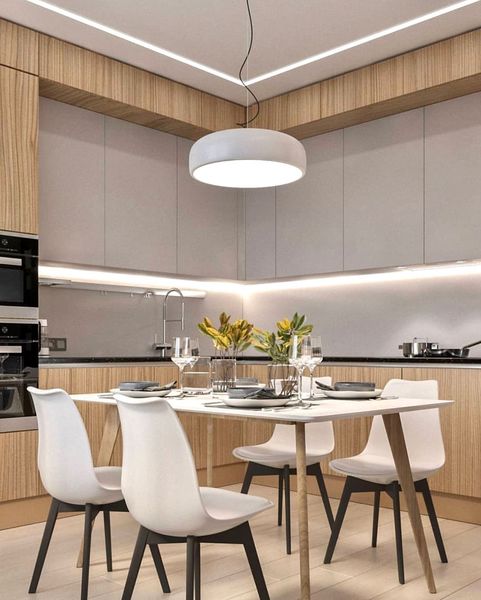 With their clean-cut profile, drum pendants are particularly popular choices for modern dining rooms. However, while the overall shape seems simple enough, there are enough sizes, materials and other details out there to make a drum pendant distinctive from the others. Materials range from pleated fabric to frosted glass to laser-cut metal and are often finished with a bottom diffuser to minimize glare.
DINING ROOM PENDANT LIGHTING
PRO TIP
Due to its rounded proportions, a single drum pendant should be reserved for placement at the center of a round or square table. For rectangular tables, you'd want to install two or more to create a balanced look.
Medium andamp& Large Pendant Lighting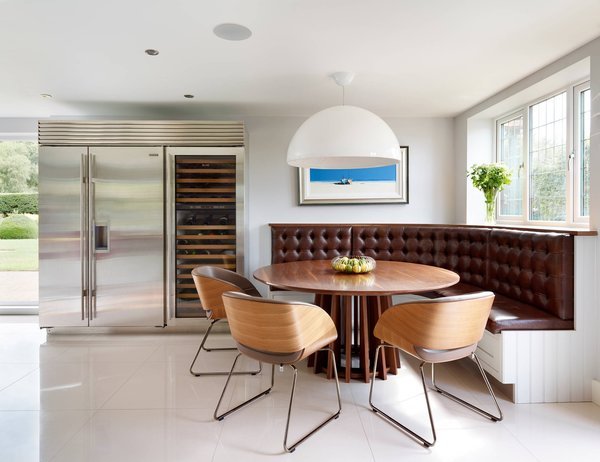 Medium or large pendants offer ever greater sculptural possibilities over a dining table. You can keep things relatively simple with large bell-shaped metal pendants, add a natural element with metal branches, or create a whimsical look with a fluffy "poof" of curled wood veneer. Again, proportion is important. You want to choose a pendant that will complement the size and shape of your dining table, not overwhelm it. A good rule is to choose a pendant that is 6" narrower on each side than the smallest width of the dining table.
Go for the Bold
If your dining room is filled with calm colors and complementary decor, experiment with an unconventional dining room pendant lighting shape, material or color.
Linear Suspension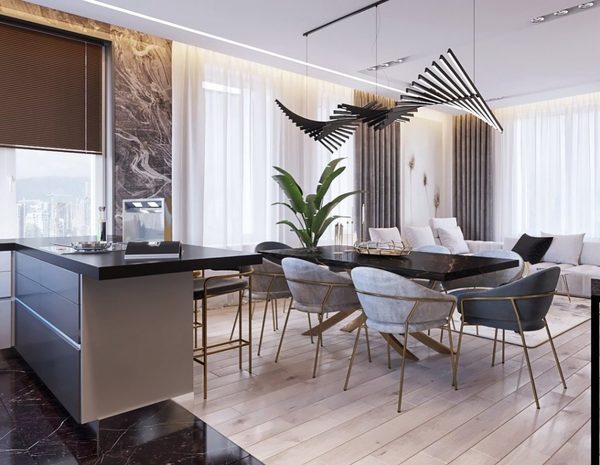 While often similar in scale to drum pendants, there are medium and large pendants with more linear proportions, which makes them appropriate as single fixtures over a rectangular table. In addition to long single pendant forms, the linear suspension model also offers multiple mini pendants in a linear configuration.
Related posts
Melt pendant light is a beautifully distorted pendant in a modern Chrome finish and matching...